Vero Beach, a beautiful location enhanced with high quality fences
by PVC Fence Supply
March 11, 2022
Beautiful location, compact population
Vero Beach, Florida is roughly 8 miles east of I-95 on State Road 60, on the Atlantic Ocean. It's approximately 13 miles north of Fort Pierce and an hour and a half north of West Palm Beach. The city has a population of 16,354 inhabitants and is a wonderful area to live or explore. Located on Florida's Treasure Coast, a lengthy stretch of shoreline, inhabitants enjoy a climate tempered by the Gulf Stream's warm tropical seas; mild winters blend with gentle ocean breezes in the summer to maintain a nice average temperature of 73 °F. Vero Beach's coastline is a more laid-back, less touristic area than many other Florida beach locations. This allows the zone to have a more comforting, more relaxing environment, which allows visitors to be drawn to the area's unique low-lying surroundings and modest, welcoming ambiance.
Indian River County
Indian River County is privileged to be one of the wealthiest regions in the United States. According to Wikipedia, it is Florida's seventh wealthiest county and the 87th wealthiest in the United States (2000 census statistics). The county is situated between the Cape Canaveral region and Palm Beach County and constitutes the Sebastian-Vero Beach, Florida, Metropolitan Statistical Area, which takes part in the Miami-Fort Lauderdale-Port St. Lucie, Florida, Combined Statistical Area.
What happens on the beachside? 
Vero Beach's beachfront section has a subtropical feel to it, with lush greenery and luxurious Florida mansions. Today's mantra is "Sunrises, Not High Rises," a statement that reflects zoning regulations and community mindsets opposing the giant construction along the coastline that has become so common in most of Florida. Related fact: The Village Spires are Vero Beach's single high-rise on the beach. 
You can also visit a charming small commercial district with restaurants and art galleries around there! and from the Central Beach Business District, you should get to the main beach. 
"The Narrows"
The beach community is settled on the barrier island separated from the mainland by "The Narrows," a portion of the Indian River Lagoon. Naturally, this section of Vero Beach has substantially higher real estate values than the rest of the city.
Where the name comes from
Florida's contemporary history begins with its founding as a fruit sea port, and back in 1891, Henry T. Gifford established the very first postal service in the area, which he called Vero. Rumor has it that his wife, Sarah, chose the name after the Latin word "to speak the truth". In 1919, the City of Vero was established. However, six years later it was renamed Vero Beach and moved from St. Lucie County to Indian River County.
The three stunning districts taking place in the region
Beach Side: Separated from the mainland by the Intracoastal Waterway, featuring some of the most costly residences and resort properties that enjoy the gorgeous beaches and tree-lined streets.
On the west side of the Indian River Lagoon, Old Downtown Vero: This area contains a large number of historic residences and businesses. Surroundings of the crossroads of US-1 and State Road 60 are the focal points of this region. 
Out to I-95, West of Downtown: A huge regional mall and a factory outlet mall are located in this modern business zone.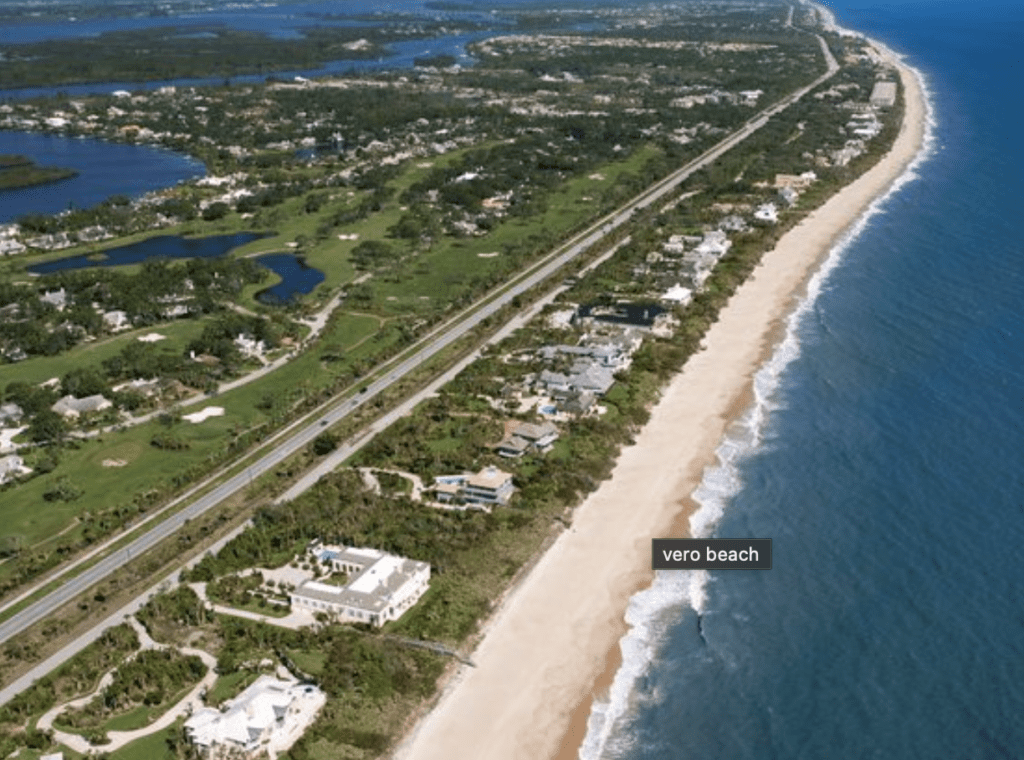 Did you know?
Did you know our reinforced semi-privacy fences do an outstanding job resisting hurricane winds? The physics are simple: small and discreet gaps take place between the pickets, allowing wind current to flow without compromising the safety of your property.
PVC Fence Supply on Vero Beach
With Vero Beach being a highly residential zone, the need is big for fence materials. Now even more, since the county's population keeps increasing and many new homes and properties are now being established. There are several fence designs from which to choose, including aluminum, chainlink, and wood, yet vinyl fence is by far the finest and longest-lasting of all fencing materials. Just as important, PVC fences indisputably match a palm tree-ocean environment, making them the best choice for the overall aesthetic. 
Just as we do in Palm Beach County, a wide variety of vinyl fence styles from PVC FENCE SUPPLY is available in Indian River County, including vinyl privacy fence panels, vinyl picket fence panels, vinyl semi-privacy fence panels, and vinyl ranch rail fence panels – which one will you choose? 
Important fact: PVC FENCE SUPPLY named one of its fence styles on behalf of this beautiful city! "Vero Basketweave"
Remember: our vinyl fence is not the regular plastic fence you're being offered by your typical wholesalers. We manufacture only high-quality, long-lasting products for a successful fence installation. 
Request an estimate in Vero Beach
If you need assistance understanding how to get started on a successful fencing project, please contact us and we'll guide you through it. 
When it comes to buying a vinyl fence in Vero Beach FL, give us a call at (561) 249-3937, send us an email at [email protected], or get a quotation online.