Guide to Vinyl Fence in Palm Beach County, FL
by PVC Fence Supply
July 29, 2019
Palm Beach County, FL is a beautiful place to live, it's currently Florida's most affluent county, and it's also Florida's third most populated county with a population of nearly 1.5 million residents.
Since Palm Beach County has quite a few residents and homeowners, with many more homes and properties being developed, there is a huge demand for fencing materials. – especially vinyl fencing. There are many styles of fence available for installation on your property, including aluminum fence, chainlink fence and wood fence, but vinyl fence is, by far, the best looking and most long-lasting of all fencing materials.
There are many styles of vinyl fences in Palm Beach County, including vinyl privacy fence panels, vinyl picket fence panels, vinyl semi-privacy fence panels and vinyl shadowbox fence panels – so which one should you choose?
Take a look at our guide to vinyl fencing below, then get in touch with PVC Fence Supply, a superior quality Palm Beach vinyl fence company to get a free project estimate.
Do you need a permit to install your vinyl fence in Palm Beach County?
The short answer is, usually, yes.
There are some instances when you do not need to pull a permit for your vinyl fence installation project, read what the county has to say about this:
Minor repair or exact replacement of a permitted fence up to $1,000 fair market value, excluding pool barriers.

https://discover.pbcgov.org/pzb/PDF/AboutUs/PermitReqdBrochure.pdf
So, unless your vinyl fence project fits this exact description, you'll need to obtain a permit.
Some homeowners opt out of obtaining a permit, we would not suggest that you do so, as first, it's illegal, secondly, you may get away with it in the short term, but there is always a chance that you will get caught.
If you do get caught, and you installed your vinyl fence materials in violation of building codes, or if you did not install your vinyl fence on or within your property line, they may force you to remove the installed materials, and then re-install them to fit code.
Once they catch you, not only will you have to pull a fencing permit, they will fine you on top of it.
You may ultimately be forced to buy more material, pay fines, wait a significant amount of time to re-install and then have to get a permit anyway.
Always safer to do the right thing to start, even if it costs you some time waiting for the permit and some money paying for it.
How do you get a Palm Beach County vinyl fence permit?
Obtaining a permit for your new vinyl fence in Palm Beach County, FL is pretty simple.
As a homeowner, you are authorized to pull your own permit in Palm Beach County, whether you are incorporated, or unincorporated.
Here's an outline to the vinyl fence permitting process:
Complete Permit Application Document
Palm Beach County, and all cities within Palm Beach County, including incorporated and unincorporated cities, must submit a Universal Building Permit Application Form as the first requirement for obtaining a vinyl fence permit.
On this form, you must fill out all applicable boxes, then sign and date the form in front of a Notary Public.
There are some areas on this form where you need special information about your property. You can find this information by going to the Palm Beach Property Appraisal website, looking up your property, and then filling in the appropriate fields on the form with the given information.
Submit Easement Agreements
An easement is defined as the following:
An easement is defined as the right to use, cross or access another's piece of land without assuming ownership. … Easements are also commonly granted to utility companies (utility easements) to run various lines across the land. Some may affect where you can place fences or other structures on your property.

https://www.pointtopointsurvey.com/2016/07/an-introduction-to-easements/
Simply put, easements exist on many properties in Palm Beach County. Some are utility easements, and some are drainage easements.
These easements are the right of either the drainage or utility companies to use the land set aside for them, this area is always marked on your survey with a "UE" for utility easement, or "DE" for drainage easement.
In order to build your vinyl fence on these areas, you must submit requests to these easement holders in order to obtain there permission to build within their allotted areas. This is a tedious process, as you need to contact each one of these companies individually, and wait on their timetable for completion.
You must receive all easement agreements prior to submission of your permit application.
Submit Survey
In order to obtain your easement agreements, and then ultimately, obtain your permit, you must have (2) copies of your property survey.
Each copy must be marked with the following information:
Fence location marked with (X) line
Location and width of gates to be installed
Style, height and color indicated on survey
Linear footage of each fence line indicated next to marked (X) line
When you email or fax your easement agreements, one copy of this marked survey must be sent along with the easement agreement form itself.
Submission of your permit application typically requires (2) actual copies of your real permit. Copies made that are not to scale are typically not permitted – but always ask your city to confirm.
Submit Engineering Drawings
In order to show the engineers in the both the Palm Beach County building department, and Palm Beach Zoning department that the vinyl fence style and vinyl profiles used in your project conform to South Florida building codes, you must obtain and then submit (2) copies of either an N.O.A (notice of acceptance) product approval packet, or (2) copies of signed and sealed engineering drawings.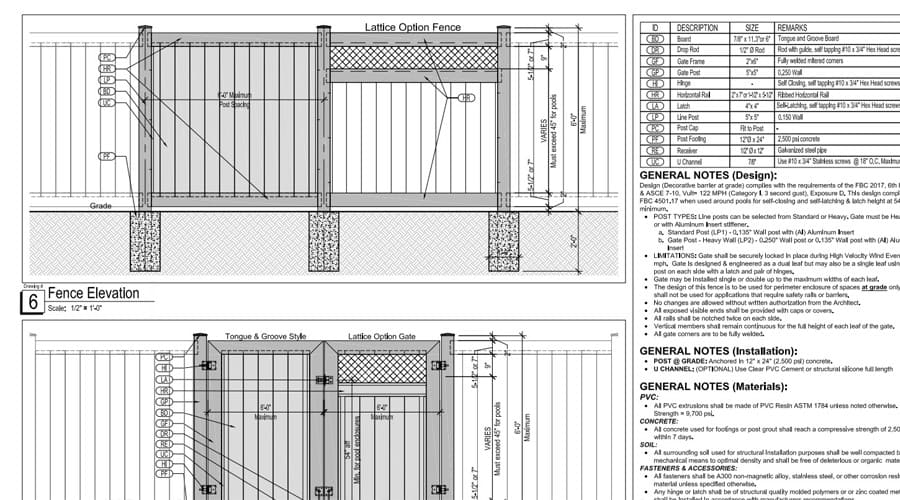 In this case, you would purchase these engineering drawings from us, and then submit them with your permit packet.
We purchase specialized drawings from a local engineer that is specific to the components used in each of our vinyl fence styles.
Calculations are done for our products to ensure that everything is up to code, and you will have no problems obtaining your permit when using our products.
Submit H.O.A Approval (If Applicable)
If you live within a community in Palm Beach County that is controlled and regulated by a home owners association, you must make absolutely sure that you meet their requirements set forth by the governing board.
Sometimes you will not be allowed to have certain styles or certain colors, so you must check with them first.
Once you submit your approval request to them, and prove to them that you will be using the correct products that conform to their guidelines, they will provide you with a letter, which you will then submit along with your permit application packet to Palm Beach County.
Submit Area Specific Documents
Every incorporated city in Palm Beach County has various different forms and requirements that are specific to that area or city.
Always check with your city's building and zoning departments to make sure you are submitting the required forms, as they differ for each place.
How long does it take to be approved for your vinyl fence permit?
Unfortunately, this process can sometimes take 2-3 months. The lead time typically depends on how busy the building and zoning departments are at the time you submit your permit packet.
Some cities are quicker than others, and some municipalities will allow you to submit and follow the permit application over the internet.
Since all cities typically work with different management companies that handle this workflow, it's really case specific.
What's the cost of a vinyl fence permit in Palm Beach County?
The price of each permit is based off of the percentage of the total job cost.
Each city is different, but as an example, West Palm Beach outlines their pricing as follows:
Your fence permit will cost a minimum of $75.00 or 2.4% value of the work, (whichever is greater), plus one percent of the permit fee, ($1.00 minimum).

discover.pbcgov.org/pzb/building/Pages/Permit-Center.aspx
Always call your city to find out their specific payment schedule.
The best vinyl fence styles for installation in Palm Beach County.
This style of privacy fencing is, by far, the most popular model that we sell. Our vinyl privacy panels use a tongue & groove system, and pocket rails as horizontal members.
When fully assembled, each section of PVC privacy fencing is 100% opaque, providing total privacy and security to your yard.
Though our vinyl privacy fence panels are available in white, tan and khaki – some cities and home owners association in Palm Beach County have special restrictions that allow certain colors over others.
Furthermore, depending on where you are, they may not allow full privacy as certain municipalities require privacy with lattice or privacy with picket accent.
The PVC variant of the traditional wooden shadowbox fence is a much improved and significantly better looking version of it's wood counterpart.
Certain cities in South Florida only allow this style instead of vinyl privacy fences.
If you have a pool, we fabricated a specialized type of vinyl shadowbox fencing that meets South Florida building codes, with a raised middle rail that is a minimum of 45″ from the ground to the top of the middle rail profile.
Should you require an enclosure for your front-yard, garden or pool, vinyl picket fencing is the perfect choice.
Many properties in Palm Beach County have pools installed, and since Florida building codes require that every pool be enclosed with either a fence or a screen enclosure, you must install one of those two choices.
Our vinyl pickets fences are available in many heights, with many variations on picket width, picket caps and picket spacing to accommodate any application.
Again, similar to vinyl shadowbox fencing, we ensure that your vinyl picket fence is fabricated to meet the 45″ height requirement set forth by Florida building codes for fences that enclose pools.
However, since the most common height of vinyl picket fences is 48″, and the height of the latch needs to be 54″ from the ground to the top of the latch, a special raised latch must be installed.
What is your lead time on fabricating vinyl fence material?
PVC Fence supply has incredibly short lead times on standard vinyl fence items for Palm Beach County residents.
We stock all vinyl privacy fence components at all times. If you need 30 sections of tongue & groove, chances are you can simply come to our shop and pick it up immediately.
For all specialty items, the lead time for manufacturing is typically 1-2 days depending on how busy we are.
Certain items, such as wood grain profiles, are special-order from our manufacturer, and can take at least 2 weeks to receive via truckload.
Get a quote on your vinyl fence in Palm Beach County.
There's a lot of great information here, if you need help understanding anything in this article, feel free to contact us and we will walk you through everything.
And when it comes time to purchase your vinyl fence in Palm Beach County, FL – give us a call at (561) 249-3937, email us at [email protected] or click here to request a quote.