Vinyl Deck
Forget about wooden decking, PVC decking is stronger and better in every way.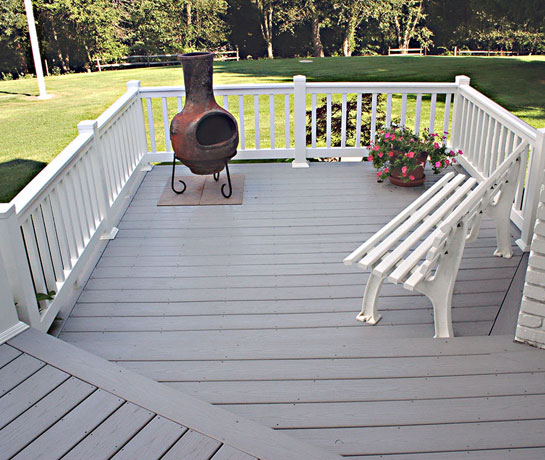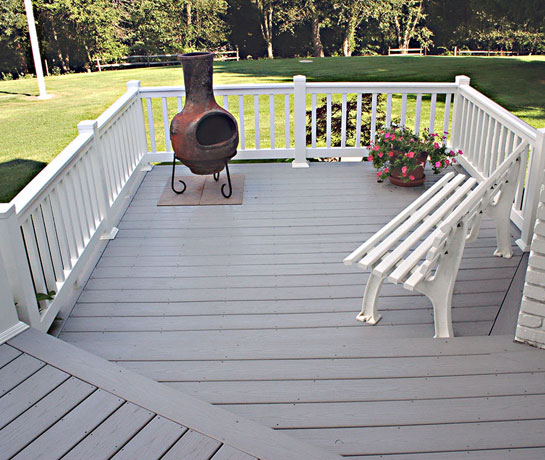 Product Overview
Available in a large variety of colors and texture options.
Our decking products are the perfect way to add value and beauty to any home. It is a cellular processed PVC deck board designed to be one of the best performing boards available, making it ideal for homeowners, architects and builders who are seeking attractive, high-performance, ultra low-maintenance deck product.
VEKAdeck is an engineered deck board that meets or exceeds ASTM standards for impact and puncture resistance, provides excellent traction when wet or dry and is thermally reflective to keep you cool under foot. Our deck and matching fascia board ships in several attractive colors to satisfy most applications.
Specifications
| | |
| --- | --- |
| Available Lengths | 12', 16', 20' |
| Deck Board Dimensions | 1" x 5.5" |
| Fascia Lengths | 12', 16', 20' |
| Fascia Board Dimensions | 7/16" x 12" |
A superior decking product that lasts a lifetime
South Florida is hard on wood, buy a PVC deck and leave your worries behind.
Better than wood in every way
With an unmatched ability to resist stains and fading, Veka decking is sure to provide many years of worry-free enjoyment and may very wall outlast your home! The deep, rich colors that run through Veka PVC deck lend a natural beauty that is only found on the most expensive, exotic hardwoods. The extrusion process allows for a consistent rough sewn textured plank with subtle color variations as random as those found in nature.
And, even though the colors run dark, Veka manufacturing technology allows the decking underfoot to remain comfortable, and cooler to the touch – even on the hottest South Florida days.
Virtually impervious to natural decay
The South Florida climate can wreak absolute havok on wood over time. Even though outdoor wooden materials are typically pressure treated to protect from decay, they are still effected by insects, staining and general degredation. You'll also have to power wash, stain and paint on a regular basis to ensure that your wood deck stays halfway decent.
With PVC decking you simply don't have to worry about any of the issues that wood has. It stays clean and new regardless of how many termites fly into it, no matter how many days of intense sunlight it lives through or how many rainstorms it survives - your vinyl deck will look like it was just installed yesterday.
Explore Other Vinyl Fencing Styles
Ready to get started?
get your free estimate today.
Now that you know more about us and what we do, get in touch with us directly to discuss how we can help you attain the home of your dreams with our vinyl fence, vinyl gates and vinyl deck products. We'll give you a superior price, exceptional service and the absolute best experience available anywhere in South Florida - guaranteed.